Konoha Amagi is the daughter to the Amagi Corp's president and the sister of Kouga Amagi.
Appearance
Edit
Personality
Edit
(Manga) Konoha is a shy kind hearted-girl. She is smart and doesn't like violence. She has a strong urge to help people and shows this through her charitable acts.
(Manga) Konoha is a girl who has known
Jin Kanzaki
since they were children and harbors feelings for him.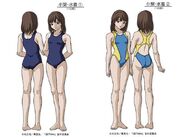 Despite this, she never dared to tell him. They originally met in an encounter with a purse-snatcher while Jin was living with
Gorou Kanzaki
. They have been friends since then.
Abilities
Edit
Relationships
Edit
Konoha is in love with Jin and seems to dislike the fact that they are only friends. She has a good relation with her mother and more or less with her brother Kouga. Due to a scene where her grandfather hit her mother when she was a kid, she lives in fear of him.
Ad blocker interference detected!
Wikia is a free-to-use site that makes money from advertising. We have a modified experience for viewers using ad blockers

Wikia is not accessible if you've made further modifications. Remove the custom ad blocker rule(s) and the page will load as expected.